Nutrition Plan for Robbie's Transcon
Robbie's nutritional needs are at the forefront of his planning and will be critical to his success in his transcontinental run across the United States. He has chosen to not only fuel himself with purely plant-based foods, but to also use his run as a platform to have conversations with others about the importance of healthy eating, caring for our planet, and making ethical choices. So what does this incredible plant-based endurance athlete need to eat to keep him going?
As an aspiring plant-based nutritionist, I will be guiding Robbie in his endeavor to accomplish this goal as a plant-based athlete. His caloric needs are monumental. He will need to be consuming between 4,000 and 10,000 calories per day! The average person consumes about 2,000 calories per day, so double, then triple that and you have Robbie's baseline caloric needs – PHEW! He will start off gradual (at maybe 4,000-5,000 calories a day) and ease his body and metabolism into overdrive. We predict that he will likely be consuming close to 10,000 calories regularly in the last month!
Robbie will eat a LOT of carbohydrates – both slow and quick sources. In a typical whole foods plant-based diet, as long as you are getting the amount of calories you need to survive (i.e. not malnourished or have an eating disorder), it is actually impossible to be protein deficient. There are a variety of studies that show that too much protein can be detrimental to an athlete's performance, so we will not be hyper focused on the ever spreading myth that he might not be getting enough protein. Instead – we will ensure he is getting enough plant-based varied calories, high in carbohydrates, knowing that protein and other nutrients will automatically fall in line. It's all in the food!
Robbie's Typical Daily Nutrition:
BREAKFAST:
Robbie will start his day with a normal sized but hearty bowl of oatmeal. He's not a typical right-out-of-bed eat breakfast kind of guy, but eating first thing in the morning before he starts to run is important. It will help with replenishing and fueling his body for the day ahead of him and get his bowels on a nice routine. In extreme endurance events like this it is not unusual for an athlete to wake up in the middle of the night hungry – so I guarantee that Robbie will become a breakfast LOVER by the end of the Transcon (as well as have a bar or two at his bedside in case he gets the midnight munchies).
Oatmeal recipe: oats, water, peanut butter, chia seeds, banana, raisins, and a dollop of maple syrup. (606 calories)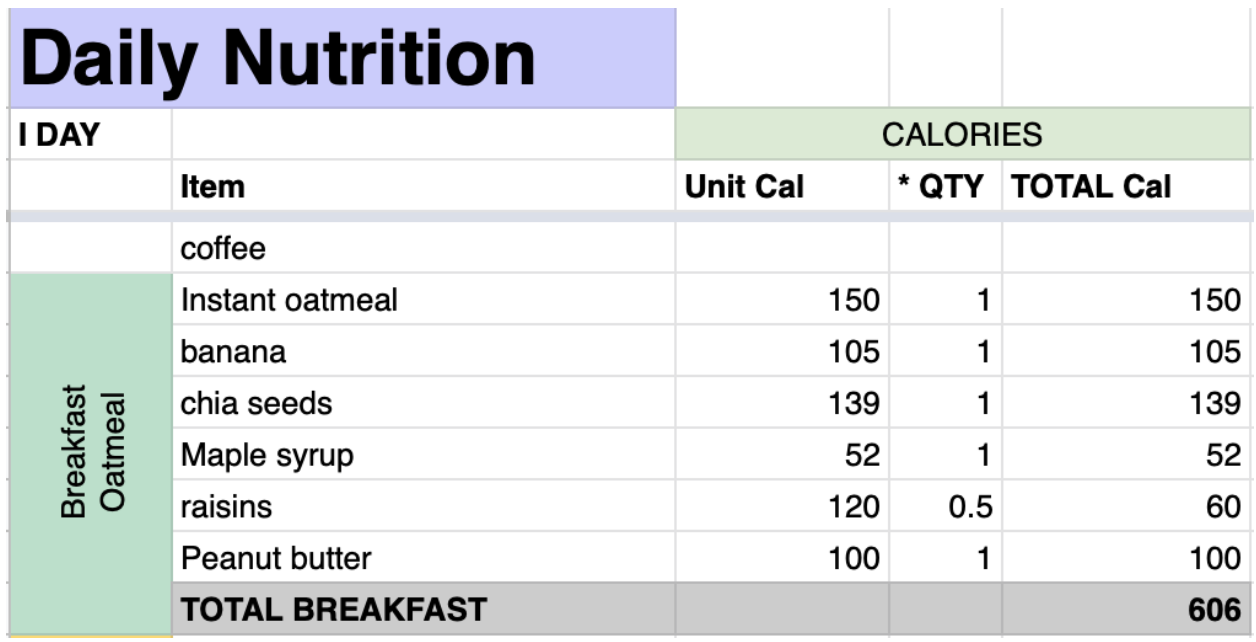 DURING HIS RUN:
While he is running, Robbie will be consuming small amounts of food every 45 minutes – 1 hour. Bobo's and Thunderbird bars (~250 cal per bar) will be his go-to snacks on the run, packed with whole food ingredients. He will also use gels (80-100 cal) and chews (160 cal) for quick energy in the afternoon or as he gets more tired to prevent bonking (or crashing). We are planning for an average of 3 gels per day and one chew pack. Quick sugar and carbs help athletes maintain a high level of activity after hours of work.
Robbie will also consume some whole foods while running. This running snack will likely become more critical as the days compound and his hunger and calorie needs increase throughout. His running snacks will be simple, portable, but high carb energy sources. Tacos and potatoes will be staples (listed below), and we will also create some portable snacks for variety and fun adapted from The Feed Zone book, by Skratch Labs. Many recipes are highly nutritionally dense with the endurance athlete in mind, are already vegan or can easily be made vegan, and are portable for ease of carrying. I learned how to make some of these recipes from my cycling team last year at our training camp and they were AWESOME on those long rides! I'm super excited to practice these recipes and make some on the road for Robbie. Special shout out to a mentor of ours, Carroll Voss, for sending us the recipe book!
SNACK STAPLES:
– Bean Taco: tortilla & refried beans (340 cal)
– Potato: cubed and boiled + salt (163 cal)
Electrolytes will also be paramount. Robbie has experienced cramping in the past and has found taking salt tabs while running through the heat of Texas to help prevent cramping. He will take salt tabs as well as consume Skratch, an electrolyte powder with carbs/calories throughout the day (~320 cal per day). It will be critical to consume as many electrolytes as possible as the temperature warms up as we inch our way towards summer.
SMOOTHIES:
Hydration is immensely critical to any athletic performance (and just in general), so Robbie will be consuming tons of liquid. Because his calorie needs are so great and the amount of food he will need to consume to meet those caloric needs is so much more than our bodies are used to (and more than he could probably eat, chew and digest), he will need to drink as many of his calories as possible. By consuming smoothies two times a day, he will not only get constant hydration, but also consistent and easy to digest calories that are gentle on the digestive system.
He will have a smoothie in the morning and another smoothie in the afternoon. Depending on how his pace is and how his mileage is coming along, it is likely that he will consume parts of his smoothie during breaks and not all at once. In sustained activity such as running 40 miles a day, or exercising for 8-12 + hours per day, nutrition is more of a constant input and less about large sums of food all at once three times a day. Robbie will be consuming calories pretty consistently to prevent bonking and try to maintain weight.
Smoothie Recipe: Soylent (vegan meal replacer powder with a lot of calories, vitamins and carbs), banana, chia seeds, peanut butter, kale or spinach, carrots, coconut milk and water. (1,215 calories per smoothie).
LUNCH:
Robbie will break up his run into two parts: a 20ish mile section first thing in the morning and another 20ish mile run in the afternoon/evening to finish up the miles for the day. Breaking up his running will allow for more recovery time, which is critical to be able to push your body and muscles again. He will also have a chance to load up on a high calorie lunch and a potential for a 30-60 minute nap depending on how the day is coming along.
When he takes his lunch break, he will consume a very large sandwich, or what we like to call a "vegan banh mi." Most of the ingredients are not calorically dense, but having fresh veggies will provide some whole food nutrients and health to his diet. The biggest source of calories is the whole wheat baguette (960 calories, mostly carbs), along with hummus, avocado, and/or vegan sliced cheese for fat and protein (each about 200 calories).
Vegan banh mi recipe: Large (12 inch) whole wheat baguette (or sliced whole wheat bread for fewer cals in the early stages), sliced and pan fried tofu, hummus, cucumber, cilantro, sprouts, avocado, & optional vegan cheese slices. (1,650 calories).
DINNER:
Robbie's dinners will usually comprise of pasta, veggies, and olive oil or beans, rice/quinoa and tortillas. He will also eat dehydrated camp meals from Outdoor Herbivore as they are packed with calories, provide variety, made with whole foods and don't have a bunch of scary additives. These will also be really easy and quick for the crew to make for him (just add boiling water) to serve him right when he's done (as he will be hungry!). Each Outdoor Herbivore meal is high in carbs and are all over 1000 calories (he will eat a double serving)! We will also add coconut milk and tortillas to the meals to sneak in more calories as his calorie needs increase throughout the transcon.
Outdoor Herbivore meals:

FUN FOOD
Since calories are the name of the game on the transcon, and Robbie needs to consume more than any of us can possibly imagine in a day to maintain his pace, energy and muscle recovery, he will also indulge in treats and fun food. NadaMoo!, has been such an awesome sponsor for him in prepping for the transcon, and what better source of fun, cruelty free, treat than a pint of dairy free ice cream to end the day with!
There will be no shortage of NadaMoo! ice cream along the way and there will even be some for the crew and those we meet en route! Other fun foods include beer, chips or crackers, eating out at fun vegan restaurants we find along the way, and other vegan snacks that will add to his calories. These items are not planned, as fun things are often spontaneous! SO much planning has gone into the transcon, and some parts need to be left to the unknown – to mindfully be open to the present moment and all it offers.