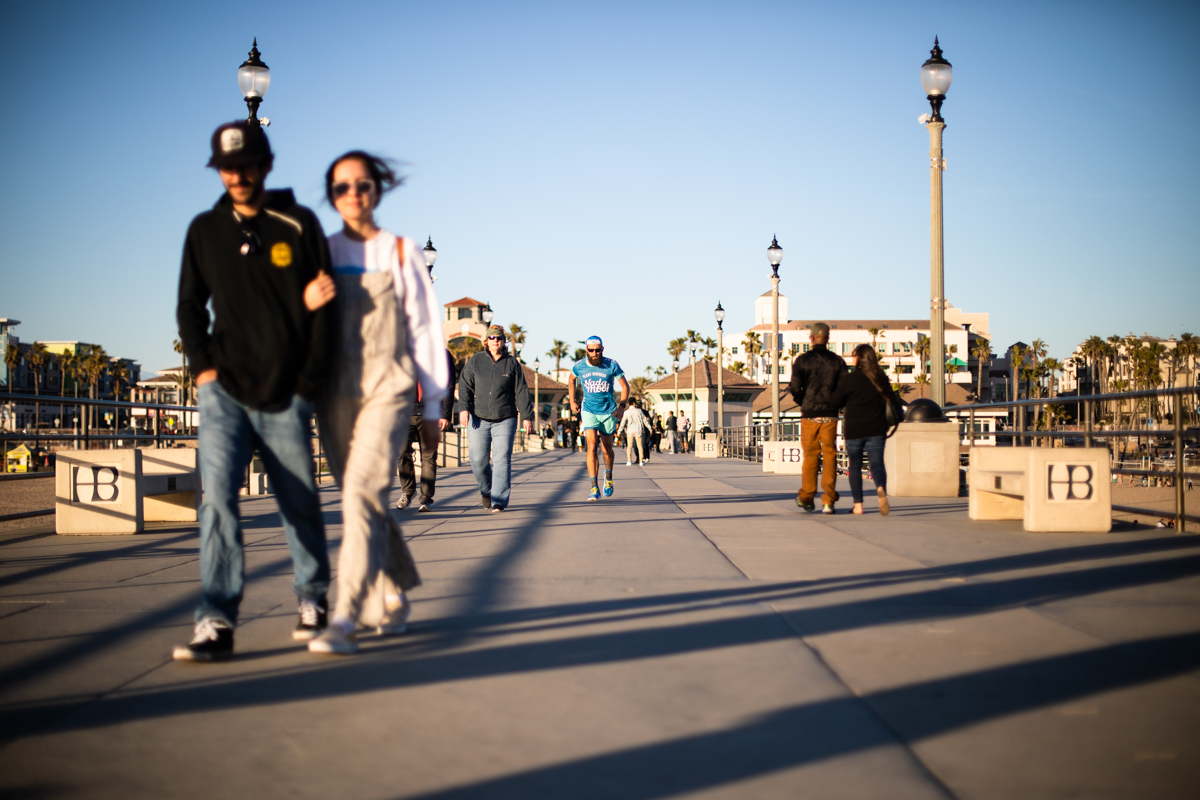 Last night I watched a video from Day 1 of me with a guy that I met at mile 16, running on the bike path just outside of Los Angeles. Now, only a week later, I feel so different from the me in that video. I already feel more weathered, more accomplished. Essentially like a different person altogether.
The way things have been going really aren't too far off from how I expected. However, I never thought I'd poop so much, never thought I'd see so many trains, and definitely didn't think sleep would be so hard.
The arc of exhaustion has been interesting. Heading into Barstow on Day 3 was probably the lowest point. It was weird. I felt like I was in a drug stupor or having a bad trip. I've never really hallucinated on a run before, but the sheer exhaustion I was experiencing created a mind altering effect.
Day 4 brought the biggest surprise of the week. Early on in my day, I came upon a marine base that I was unable to pass through until we got the higher ups involved. This took about 45 minutes, and I lost some precious morning weather. this was the first time my path was being impeded. The part where the guard just said, "Nope, you can't go here," still sometimes replays in my head.

After the gift of a short day on Day 5 with only 28 miles, I was able to get some much needed rest. This rest allowed my body to recover and gain some fitness back. I feel like I'm now entering into an adaptation phase, or maybe just learning to do this better. I'm learning how to deal with my aches and pains and starting to refine my process. At first, I didn't quite know how to handle the incredible aches and I was caught off guard, but now I feel like I'm managing it. The crew and I are becoming a much more efficient team together. The last three days I feel like I've recovered really well, and I think the vitamins and supplements are helping.
The first few days were filled with so much energy and so many people. I was surrounded by many like-minded people and the support was surreal. And that support continued into Barstow where we had interactions with people like Damont (See video below). This contrasted dramatically in the desolate vacuum of the Mojave Desert where I really didn't interact with hardly anyone.
I feel more prepared for every day. Getting up in the morning feels less daunting and I think to myself, "Ok, this is who I am and this is what I do." I have learned to REALLY appreciate sleep (mid-afternoon naps are absolutely amazing). When I get good rest it means I get to start each new day with a fresh start, which goes a long way for me mentally. At the end of the day, when I'm totally beat, at least I now know that after eight hours of rest/sleep I will wake up feeling replenished and ready to go again.
It's wild how easy it is to consume 7,500 calories. I don't feel heavy at all. It goes in and then it's just gone.
If I could've told myself one thing last week before I started it would have been to focus on recovery more, to think about and plan for recovery. As I mentioned earlier, I'm getting a better handle on it now, but it has been the biggest struggle so far. I have so much gratitude for the crew and how they have been there to help me with everything. Overall, I am amazed at how well everything is working.
The magnitude of my weekly mileage is pretty wild. The fact that I've put in 297 miles in a week is astounding to me. I used to get my jollies if I got in a 100-mile week. And it wasn't that long ago that I used to think a 100-mile week was insurmountable. But now, I've run almost 300 miles in seven days! If I ever doubted myself as a runner, I now feel like I can confidently call myself an endurance athlete. Everything feels doable. Breaking up this huge event into one day at a time allows me to focus on the present moment in manageable bits. This means I'm not really thinking past the next day ahead of me. I've sliced this project up every which way… by state, by cumulative miles, by daily miles, by steps, by the next time I see my crew.
I didn't expect for people to be so supportive online. I imagined that maybe eventually my project would gain some traction and momentum, but that immediate spark right off the bat has been huge. Thank you to the powers-that-be for making that happen in the social media world. I am so appreciative of all the comments and messages sent to me on social media from friends, family and random strangers. It is truly humbling. I check messages in the middle of the night when I can't sleep. Having so many positive supportive people encouraging me from all over the world carries my spirits. I miss Kasha, my dog, and Shelley, my new fiancée.
The commitment of my crew is humbling as well. I didn't realize how much I would rely on everyone psychologically and emotionally. While I'm out here I feel so incapable of doing anything other than running. I've always been so fiercely independent and now I depend on others for so many basic things. It feels so good to trust in people and let others take care of me. This whole team mentality is a brand new concept for me. I feel so incapable outside of this one thing (running), and having other people filling all the other holes makes me feel so grateful and also so good. This transcon run truly is a full team effort, and I strongly believe it would be impossible without every single person who's invested time and energy into making this a reality, however large or small the contribution has been. I couldn't do 20 miles back-to-back every single day without a crew. It's really nice to experience this warmth and trust when I'm feeling so vulnerable. I'll be more inclined to ask for help after this and trust in others' generosity.
The random interactions have been a big part of my motivation. People are genuinely so supportive. When someone tells me that I inspire them, it lifts me up. The feeling is actually so mutual, because meeting so many supportive and curious people inspires me to keep going. It has been a true blessing that not one single person has been a naysayer about this run or its mission.
Truck stops aren't as bad as I expected and Walmarts are pretty plush – never thought I'd say that in my life.
I told Jackie (crew member and nutrition guide) I wouldn't need to see the crew every 5 miles. I thought every 10-15 miles would be enough. She pushed me to start with every 5 miles and then we could adjust if it felt too frequent. I am surprised by how dependent I've become on seeing my whole crew every 5 miles. Not only for gear, hydration and nutrition, but also for emotional support. It's something to look forward to.
It's been pretty fun to get to know Elliott. He is a random stranger who I met a few weeks prior to the start of the run in an internet cafe in Mexico. In a quick gesture, we invited him to join us in L.A., and he said, "OK!" and that was that. He is now such a huge part of the project, and obviously became part of the family immediately. It's been an interesting process for me to notice. I didn't know what it would be like to be in close quarters with someone I didn't know all that well, especially during the first 5 days when I was physically falling apart. That would be something that I would have labeled, "outside of my comfort zone." When I'm feeling vulnerable, I like to be either alone or with a very small group of people I'm close to. But Elliott has been such a bright light and beacon of positivity. I can't imagine going through those first 5 days without him helping me through. I really liked that experience.
I really like having my Sierra Nevada beer at the end of the day.
I wish the shower was a tad bigger, but having a shower with hot water is pretty nice!
Someone should probably name my big blister.
Compression is a beautiful thing.
Elevating my feet is important.
Wow. The Mojave desert is AMAZING. Route 66 is incredible and needs to not be forgotten. We tumble along on the interstates all the time. I've been doing it for 15 years myself and we miss so much this way. These little towns sprinkled along Route 66 are fascinating and all it would take is for people to slow down a bit and they would get to experience them. They are quickly fading away and becoming ghost towns though, which is sad.
Passing the cyclists from Cancun on day 6 was REALLY wild. It felt so strange and so matter-of-fact to encounter others who were also crossing a huge distance not in a motorized vehicle. They are riding from Cancun, Mexico to Los Angeles, CA!
I've thought about Björn a bunch while I'm out here. I wonder where he is and how he's doing. I've thought about what it would be like to do this solo. It would be a whole different ball game. This setup with a crew and support vehicle is really good for me. If I had embarked on this solo I wouldn't have had a set timeline and maybe would have been more of a drifter.
Massages are gooooood.
Soylent is the shit. Literally. I am completely in awe that I've never once felt full and that I've consumed roughly 7,500 calories daily. I cannot imagine consuming that amount of food on a carnivorous diet. I know I would feel terrible afterwards. The regularity of my BMs has also been incredible on this plant-based regimen.
Every single day I've thought about how Rich Roll showed up at my start. I speak about it in awe to my crew daily. He's so quintessentially "the guy." This really helped me start off with a lot of confidence that what I'm doing is impactful and important. He hits all the pillars of someone who lives consciously. He is a compassionate, plant-based, endurance athlete, and epitomizes everything that I strive to be. As a public figure, I questioned if indeed he would be all that I have idolized him to be in real life. After spending an hour and a half running with him it all seems to be true – he really is just a great guy.
The people we've met along the way and had the opportunity to talk with about plant-based diets don't seem too unfamiliar with the concept. It seems like veganism isn't such a fringe thing anymore. People know it's coming. I can feel it in the social consciousness – I can feel it bubbling up.
When I was running through Barstow my thoughts became a bit cynical. I ran by a small, local diner, and I remember thinking to myself, "There's no way there's anything vegan there." In the first window there was a big sign that read, "Burgers," in the second window the sign read, "Pasta," and in the third window there was a large poster that read, "Vegetables, vegan." I was really taken aback, especially considering the look of the town I was in. Moments later I arrived at the Walmart parking lot (the home for the camper that night) only to see the videos of the security guard interacting with Chris and Clara being inspired to give veganism a try. This is what it is all about and these conversations are happening organically, all the time.
I couldn't be more moved by the amount of people who are giving a plant-based diet a chance, or by those who are going out for their first run in a long time. It keeps me going.