Day 8
STATE: ARIZONA
START: NEEDLES, CA | END: KINGMAN, AZ
TOTAL MILES: 51 | CUMULATIVE MILES: 348 | TOTAL ELEVATION GAIN: 3,931 FT
START TIME: 6:00 AM | FINISH TIME: 8:00 PM
TOTAL PLANT-BASED CALORIES CONSUMED: 9,938
I started day 8 feeling very fresh. I knew I was jinxing myself when I started thinking that I had finally adapted to my new life on the TransCon. Everything was feeling really good though. The first mistake I made was by not studying my elevation profile enough in the morning. The day started off with a beautiful climb up to Oatman, AZ. I assumed after that monster climb I would be heading right back down. Around mile 35, I descended a mountain pass for a few miles, flying downhill but then I started to climb again. I had assumed that it would all flatten out and the last 15 miles would be easy going until my finishing point for the day. But instead, the climb creeped up on me and started as a false flat and turned into a sustained and nagging uphill.
I found myself in pure zombie mode as I kind of hit auto-pilot. My body was moving, but I wasn't really thinking through what I was doing. Instead of hiking up this 15 mile hillI, I ran the whole way. This decision really blew my energy reserves. In retrospect, I need to always be thinking about the next day, and make sure not to give too much of an effort in any single day. After all, I have to keep doing this day after day after day after day. That evening, I was spent. To make matters slightly more troubling, just as I was finishing up I noticed a new, sharp pain developing on my right shin. Could this be shin splints? If so, I was in for some trouble.
---
Day 9
STATE: ARIZONA
START: KINGMAN, AZ | END: TRUXTON, AZ
TOTAL MILES: 42.2 | CUMULATIVE MILES: 390 | TOTAL ELEVATION GAIN: 1,482 FT
START TIME: 6:30 AM | FINISH TIME: 9:00 PM
TOTAL PLANT-BASED CALORIES CONSUMED: 8,571
On Day 9, I was quick to realize that I was completely zapped from the day before. Compounded with this new pain in my right shin, I had to pace myself very slowly today. To put that in perspective, the 43 miles on Day 9 took me longer than the 51 miles the day before. I didn't finish until late into the night, and the temperatures had dropped significantly. I felt like I was about to enter a compromising situation. I was really cold and shivering and had an extremely difficult time warming up. Through all this, it became clear that Day 8 had taken its toll and had left me in quite a deficit. Elliott and Jackie spent a lot of time on the road with me, which was really nice. Also, a runner who had been following my route on Instagram showed up to join me early in the day. Shanna brightened my spirits – Thank you for coming out! I also really really need to get a good night's sleep. I was still waking up every hour incredibly uncomfortable, despite my sleep remedies.
---
Day 10
STATE: ARIZONA
START: TRUXTON,AZ | END: SELIGMAN, AZ
TOTAL MILES: 41 | CUMULATIVE MILES: 431 | TOTAL ELEVATION GAIN: 1,774 FT
START TIME: 6:20 AM | FINISH TIME: 8:13 PM
TOTAL PLANT-BASED CALORIES CONSUMED: 8,865
On Day 10, it became really clear to me that I had some real issues going on with my right shin. I limped through my 400th mile. Most of the day was spent walking with poles, as running wasn't really an option. At some point in the afternoon, Elliott suggested that I try on his shoes, which much to all of our surprise not only fit me perfectly, but the 8 mm heel to toe drop (going from a zero drop shoe) and some additional cushion made all the difference in the world. Finally a taste of some relief. We also decided to tweak my sock situation. I took off my crew cut compression socks and tried on a pair of thin ankle socks. The combination of these two changes were the start of my recovery and definitely provided me the mental boost that I needed. Downhill grades were and are still pretty painful, but things were looking up. One thing that really carried me through that day was knowing that Shelley (my new fianceé!) was going to be showing up later that evening.
We stayed at a KOA campground in Seligman, and I got to take a nice hot shower. Though I moved slowly and showering can take a lot of work, it was worth it that night. I was still battling bad aches in my legs and butt when I sleep, and it had been fairly cold outside at night which proved difficult for my muscles to fully relax. This has been incredibly frustrating because I look forward to resting so much!
---
Day 11
STATE: ARIZONA
START: SELIGMAN, AZ | END: ASH FORK, AZ
TOTAL MILES: 33 | CUMULATIVE MILES: 464 | TOTAL ELEVATION GAIN: 1,124 FT
START TIME: 6:45 AM | FINISH TIME: 4:15 PM
TOTAL PLANT-BASED CALORIES CONSUMED: 6,705
Day 11 was a sleep-in day by accident. Having Shelley around just made it hard to get moving and on the road in the morning. It was cold out, too, which made for an even better excuse to lollygag. Elliott brought us both coffee and porridge around 5:30 am like he usually does, and I slowly got dressed. Seligman, AZ is an interesting town with lots of quirky and eclectic store fronts. Tons of personality. We had a beautiful clear morning, and after I started alone, Shelley joined me for some early morning miles. All of a sudden, we ended up at the interstate (I-40), at a dead end. We thought we had been continuing on Rte. 66, but we had somehow gotten off course. This added 2 miles to the daily total, which may not sound like a lot, but it felt monstrous. Almost the whole day remained on Rte. 66. This road feels like home now! It was a short day (~30 miles), so I was able to really focus on recovery and taking it easy. Jackie had picked up a pair of Hokas the day before in Flagstaff and the max cushion of the Hokas provided some significant relief in the shin. I really needed this right shin pain to go away, but a second inflamed bump appeared and I was starting to get worried. I had begun wearing Elliott's compression sleeve, icing and elevating frequently throughout the day during short breaks, and using a lot of CBD oil. These small things helped some, but would this shin pain persist and stick around for the rest of my transcon? Some anxiety lingered in the back of my mind about this pain.
---
Day 12

STATE: ARIZONA
START: ASH FORK, AZ | END: WILLIAMS, AZ
TOTAL MILES: 30.8 | CUMULATIVE MILES: 494.8 | TOTAL ELEVATION GAIN: 2,720 FT
START TIME: 6:35 AM | FINISH TIME: 2:50 PM
TOTAL PLANT-BASED CALORIES CONSUMED: 5,687
Day 12 was another short day, only about 30 miles. I feel so lucky that these shorter days are falling around a time when I really need to be focusing on recovery as much as possible. This means, I'm walking any grade that aggravates my shin (mostly downhills). My new Black Diamond poles are absolutely incredible. I had no idea what a difference this new set of poles would make. Jackie had bought some Rock Tape back in Flagstaff and we applied that on my right leg as well. We're doing everything we can think of. Thanks to everyone out there for sending supportive words. It really helps me to get through the pain and frustrating miles. Skratch has become my lifeline. I don't even drink water by itself anymore. Soylent is also sustaining me in a way I could only have dreamed of. If there's one thing I can't complain about, it's definitely my nutrition and hydration game. It's so spot on.
I was a little worried about today's route, because it was going to be the first time that I would be off of pavement for much of the day. The red dirt road was smooth and soft, and we were so far away from any highway, that I could actually hear the birds chirping. It was such a nice gift. We ambled along near the train tracks – I'm never far from trains. So many trains. We had some great views of the snow-capped peaks outside of Flagstaff and the landscape changed from desert to pine forest as we crested the high point for the day near Holden Lake. I knew we had gotten a hotel room booked for two nights in Flagstaff. I couldn't wait for that epsom salt bath and possible a good night's sleep for the first time in 12 days. The soft road and the second day in the new Hokas let me have a practically pain free day. I needed this perfect running day – both physically and mentally.
Jackie, Elliott, and Shelley crewed me today from the Prius, while Chris and Clara took a little time off for themselves. They ran some errands for us in Flagstaff, and we ended up going out for a pizza dinner. I quickly realized, that even though I had finished early and had so been looking forward to pizza, going out to eat is a little much for me. The stimulation and waiting around didn't appeal to me. The crew and I have so many systems in place that it never feels like we are wasting time. I think tomorrow night we will order takeout from Red Curry, this Thai restaurant that I've been dreaming about since I was last in Flagstaff to run the McDowell Mountain Frenzy.
We also stopped by the running store in Flagstaff (Run Flagstaff) and met Nick and Shelly, who convinced me that the Hoka Bondi shoes are the shoes for this project. I picked up some more ankle socks here as well as some Spring Energy gels (Griffin introduced this company to me and it's the real deal!).
---
Day 13

STATE: ARIZONA
START: WILLIAMS, AZ | END: FLAGSTAFF, AZ
TOTAL MILES: 42.6 | CUMULATIVE MILES: 537.4 | TOTAL ELEVATION GAIN: 1,962 FT
START TIME: 7:00 AM | FINISH TIME: 6:55 PM
TOTAL PLANT-BASED CALORIES CONSUMED: 7,438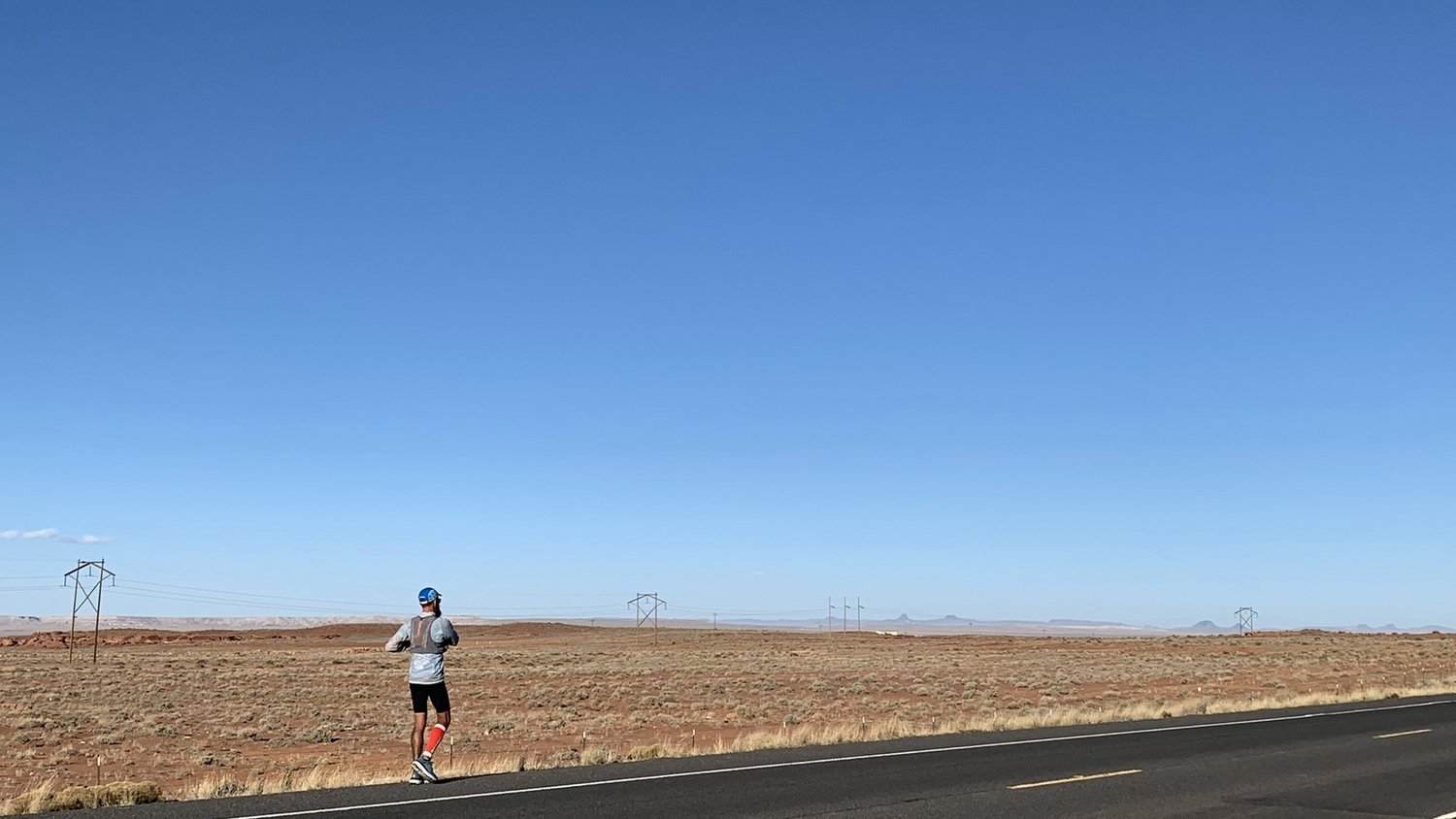 I had a GREAT night's sleep in the hotel room! Oh my god, I couldn't be happier about that. Day 13 was a later start, because we had to backtrack to Williams, AZ to start my day (about a 35 minute drive from Flagstaff). My crew made me a rock art sign that commemorated my 500th mile. These milestones are important to mark, because for me, the days are just starting to run together. All I know is that I just do this same thing every day. I start out feeling moderately fresh with energy during my morning miles, and then at some point in the later afternoon or evening I will crash, no matter what. That's my routine. Day after day. There's no way around it!
This morning I said goodbye to Jackie, my crew chief and nutrition guide. I'm a little anxious what life will be like without her, because I trust everything she tells me to do. She has worked hard to leave behind systems that are easily replicated, and she has "trained" the rest of the crew on all the things she was doing behind the scenes. I am so so grateful for all of the energy she has put into this project. She has become such a good friend to me, and she feels like a sister to me now. I knew today was going to hard for a few reasons: Jackie leaving, a complicated route ahead of me, and a higher mileage day (about 44 miles) for the first time since I started to feel better from my shin splint pain.
Elliott still needed to take some time off from biking and running (nagging top of foot pain), so Shelley ended up joining me for about 20 miles of the route today. There were so many unmarked turns on washed out dirt roads and I definitely would have gotten lost without someone paying specific attention to my route. Much of the route was unsupportable by car, so we had some longer stretches in between aid stops. I'm proud of myself that I stayed on top of my nutrition – Jackie is usually the person that has the easiest time getting me to eat.
If yesterday's terrain was a glorious, soft, red dirt trail, today's route was exactly the opposite. Almost the whole of today's run was on trail and the ground was so insanely saturated from snow melt. There were so many segments that were completely flooded and forced me to bushwhack around essentially small ponds. This really made it impossible for me to find a groove, and I kept rolling my ankle on the rutted out parts. I tried to keep my breaks shorter today because I really just wanted to get the day over with and have another epsom salt bath. Though today's terrain really sucked, the views were pretty spectacular.
I think I'm getting tired of tofu wraps. I love the original + garlic hummus though. I think I'll move onto a rice and beans lunch with cilantro and olive oil (and tofu sometimes). Spooning something into my mouth sounds so much more enjoyable to me these days.
Do you think Pringles has ever sponsored an athlete? Hey Pringles! That crunchy/salty is the perfect snack for me!
I'm still figuring out my shoes + sock combos. I have some more Hokas on the way that are EE (extra wide) as I'm battling blisters like crazy. I know it's just a new shoe thing, but I don't want this to become a problem, so we are being really proactive about it. I have a little string of about 5 blisters alongside my toe in various stages.
Red Curry in Flagstaff was SO GOOD. I had the Yen-to-fo and a bowl of Tom Kha soup. Hit the spot. Elliott also procured me some hazy IPAs… the guy knows me well!
In general, the last couple of days have just been so much easier. Shorter days, new shoes, improving shin pain, and Shelley being here. Now with her leaving, and Jackie gone, it's going to settle into a new kind of quiet. I'll still have Elliott to make me laugh all the time, and Chris and Clara busting their butts while battling severe pollen allergies. But it will be different. I need to get used to frequent changes out here on the Transcon. Every day is so different than the day before. Just when I think I have something figured out, I discover a new obstacle.
Tomorrow is going to be a really long day. 53 miles. Please let me sleep well, please let me sleep well.