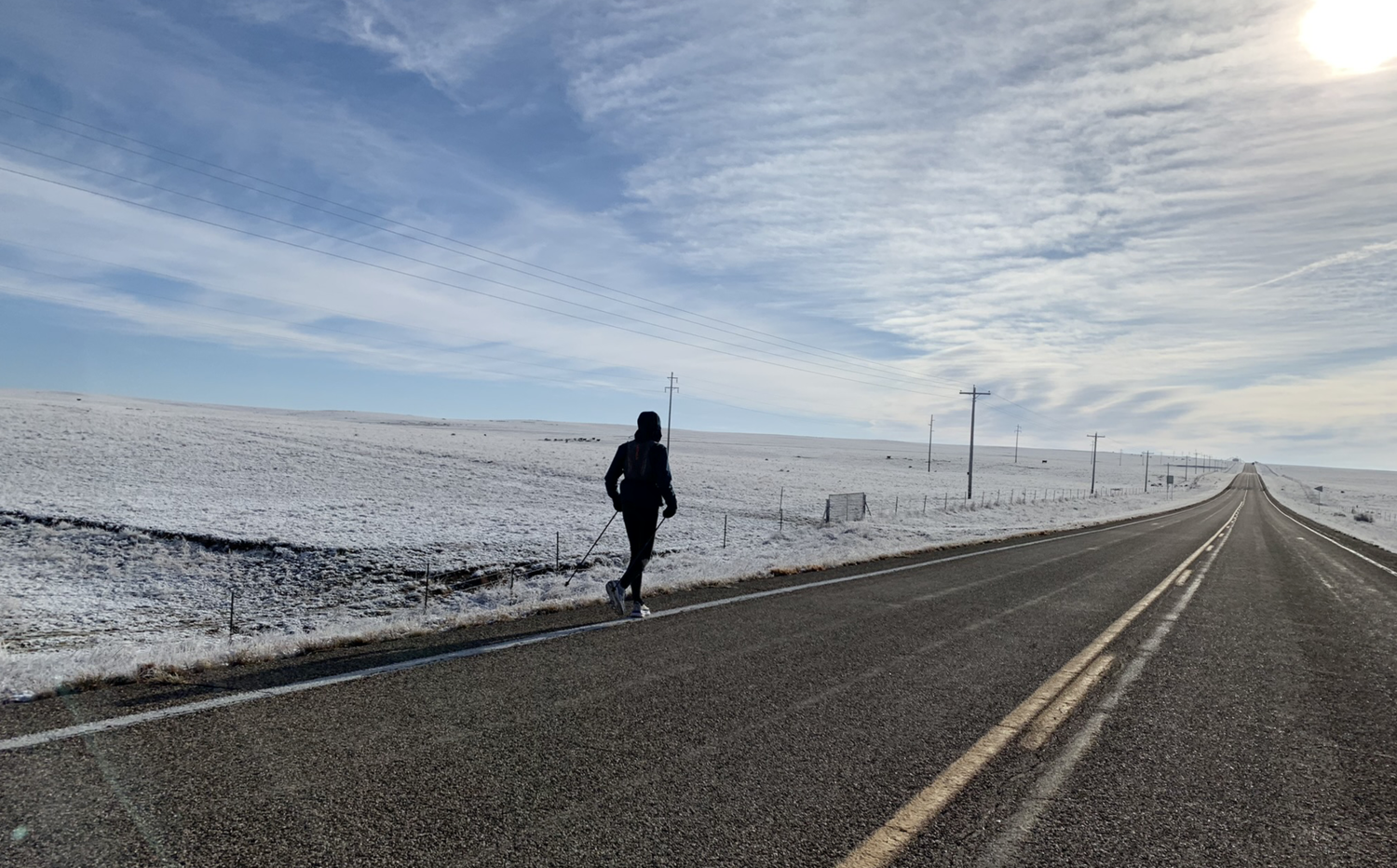 STATE: OKLAHOMA
DAYS: 29 – 33
START: FELT, OK | END: LAVERNE, OK
CUMULATIVE MILES: 1346.6 MI

DAY 29:
None of us anticipated that we would wake up and there would be snow on the ground or that it would be snowing as I started. The snow progressively got worse over the first 3 hrs of my day. It was sleeting AND snowing to the point where I really couldn't see because it was blowing straight into my face. I had the hood of my rain jacket as low as I could and between my sunglasses and my hood I was able to make a little slit so I could see.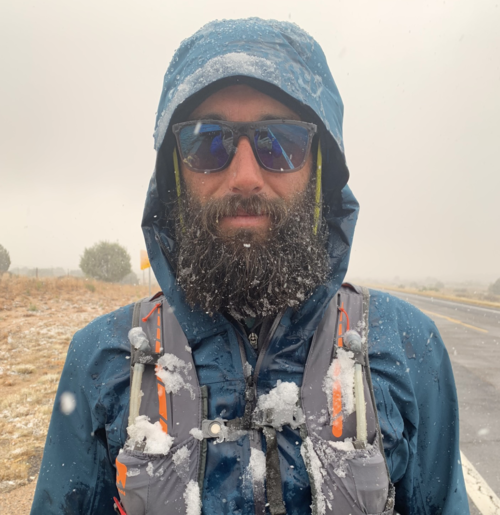 I arrived in Clayton, NM about mid day. Clayton has been a monumental moment I'd been looking forward to. On my drive back from the Big Bend Ultra race back in January, Shelley and I stopped in Clayton knowing that it would be a town on my transcon route. I stood exactly in the center of the town that day wondering what it would be like to be in that spot only a few months down the road. Standing there in Clayton back in January was the first time that the gravity of this run really hit home. I remember wondering who was that person going to be coming through Clayton after almost 1,200 miles of running across the country?
Here I am today, I'm that person.
There's so much one can't anticipate about doing something like this. I don't think I underestimated the difficulty of this undertaking, but how do you put your finger on what it's going to be like to pull yourself out of bed every morning and move for 12 plus hours?
This run has changed me and I don't know what the implications of those changes are yet, but I do know that I am a different person than the person that stood there on Jan, 22. It was so eery to think my future self would come through here and here I am now – that future self!
Today I had some fun little things to look forward to. Chris mapped out exactly where we could step into Texas. Of course the minute I stepped into Texas it got 10 degrees warmer and the sun came out. I kid you not! It went from like 45 degrees to 60 degrees! Then, when we left Texas and entered Oklahoma the temperature dropped again. It was hilarious.
Entering Oklahoma was another big milestone. 3 states down (CA, AZ, & NM) and now I'm in OK. It really feels like we'll be here forever. My Oklahoma impressions thus far are that there are no shoulders on the road and there are no mile markers. These are two things that I value a lot. Having a shoulder on the road provides somewhere for me to run where there is no traffic and there is literally no shoulder now. Mile markers have been nice for me to mentally check them off as I go. They kept me present. I see the crew every 5 miles so whenever I saw a mile marker I would check it off, then see the next one and check it off and so on. Without these small visual benchmarks it feels as though the 5 mile increments are going by a little slower.
One day at a time. Each day totally different from the one before it. East I go.
DAY 30:
Today was was my first full day in Oklahoma. I'm happy to report that it was a relatively easy day for me. I believe some of this is because I've fully descended out of the mountains and onto the Great Plains to an altitude of about 3,000 feet (from as high as 9,000 feet only a few days ago in NM!). Today's section was also net downhill for an added bonus.
My fitness level has increased, allowing my body to become accustomed to high mileage day after day after day. While noticing how things were coming together and that my body was aligning with the task I keep asking it to do, I began to think about how this touches on a bigger lesson in life.
When we are confronted with a change we want to make in our lives, whether that be adopting a new physical or mental practice or quitting a bad habit, it isn't going to be easy. Especially in the beginning. But in order to achieve our desired outcome, we must lean into the discomfort or pain and understand that it will get better as long as we persevere. Just because something is hard at first doesn't mean we should run in the other direction. Our body and mind will adapt to what we ask of it, but not without a fight. I'm coming out on the other side of what has been an uncomfortable, hard, and at times miserable month.
When the going gets tough, embrace it and don't back down. It will get easier, and you will come out the other side a better person. I'm sure I'm not done feeling uncomfortable or in pain, or tired, or miserable. But right now I've hit a high spot, and I think a lot of that is because I have faced hard times out here.
Right now, that's a victory. I feel really strong heading into the next month and a half of this long run.
Oklahoma has some hills and turns in the road, which is nice. I've been seeing mostly fields and tractors but not a lot of traffic. I was supposed to do 45 miles but went ahead and did 48 miles because I was feeling so strong. It was nice to do extra mileage and still finish an hour before sunset.
Having completed 30 days sounds big and I like that.
I've been collecting things each day that I find on the side of the road. Sometimes they remind me of a time and place or a story, other times they remind me of someone, but most of the times they just make me smile. One of the things I've been collecting is licence plates. Any time I see one I pick it up. I got a new record today by finding 2 in the first 7 hours of my day!
Today we also changed time zones which makes things feel slightly different. Another small milestone I checked off is that I'm now less than 2,000 miles from NYC! That felt good.
DAY 31:
Day 31 was a lot warmer than it had been recently. It got up to about 85 degrees, which was a drastic change from 2 days ago.
I finished later than I had been due to the major heat today. I took a nap at mile 33 (with only 13 miles left) to rest and recoup from the horrendous heat. Heat makes my feet perspire more which means my feet are getting blisters again. I will do my best to begin wrapping them in the mornings to prepare better for the heat to prevent blisters. I entered a really weird mental space starting late in the day on Day 31, which only sort of tapered out by the morning of day 33.
DAY 32:
I got an earlier start in an attempt to combat the heat. I noticed I was having a hard time staying present and staying focused.
I just keep telling myself to put one foot in front of the other until I don't have to put one foot in front of the other anymore (which is about 2,000 miles).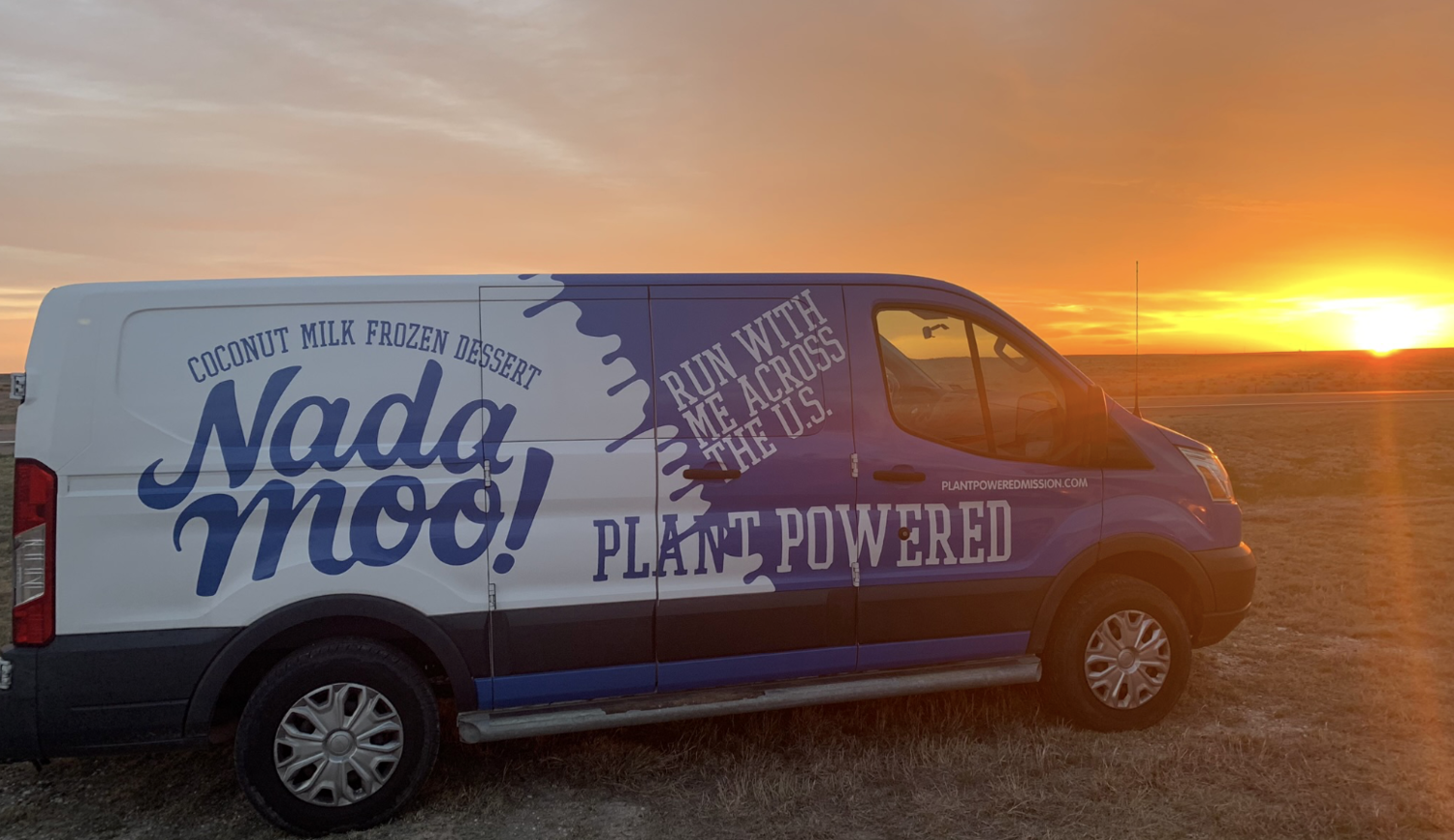 I noticed a lot of wind turbines which makes sense since the day was extremely windy. I dealt with a 20-30 MPH head wind pretty much the whole day. When semi trucks drove by me they caused a wild gust of wind that just about took me off my feet every time. The relentless head wind really made it hard to get the miles in.
I really hit the doldrums on day 32. Things just became monotonous to an extent I haven't experienced yet. It felt like Groundhog Day all the time. Although the scenery here in Oklahoma is beautiful, it really hasn't changed much.
DAY 33:
I got an earlier start than normal because the forecast predicted a pretty bad storm.
I've been using a lot of Body Glide on my feet and body with the heat to prevent blisters and chafing.
I had some encounters with wildlife today that I wasn't expecting. I saw netting alongside the road and found a little bird trapped in the trash. I released it and it flew away uninjured! I also saw a calf who had just been born, the momma cow still had her placenta ! Then some cow friends and later some dogs ran along with me.
I'm up from 3 smoothies a day to 4. My smoothie elixir is: Soylent powder, coconut milk, chia seeds, peanut butter, greens banana, carrots. It goes down so smoothly and helps me feel full and sustained without any GI distress.
Even though every nook and cranny is literally spoken for in the van and camper, the freezer is always reserved for NadaMoo! pints which makes me happy to open and look at all the flavors to choose from at the end of a hard day.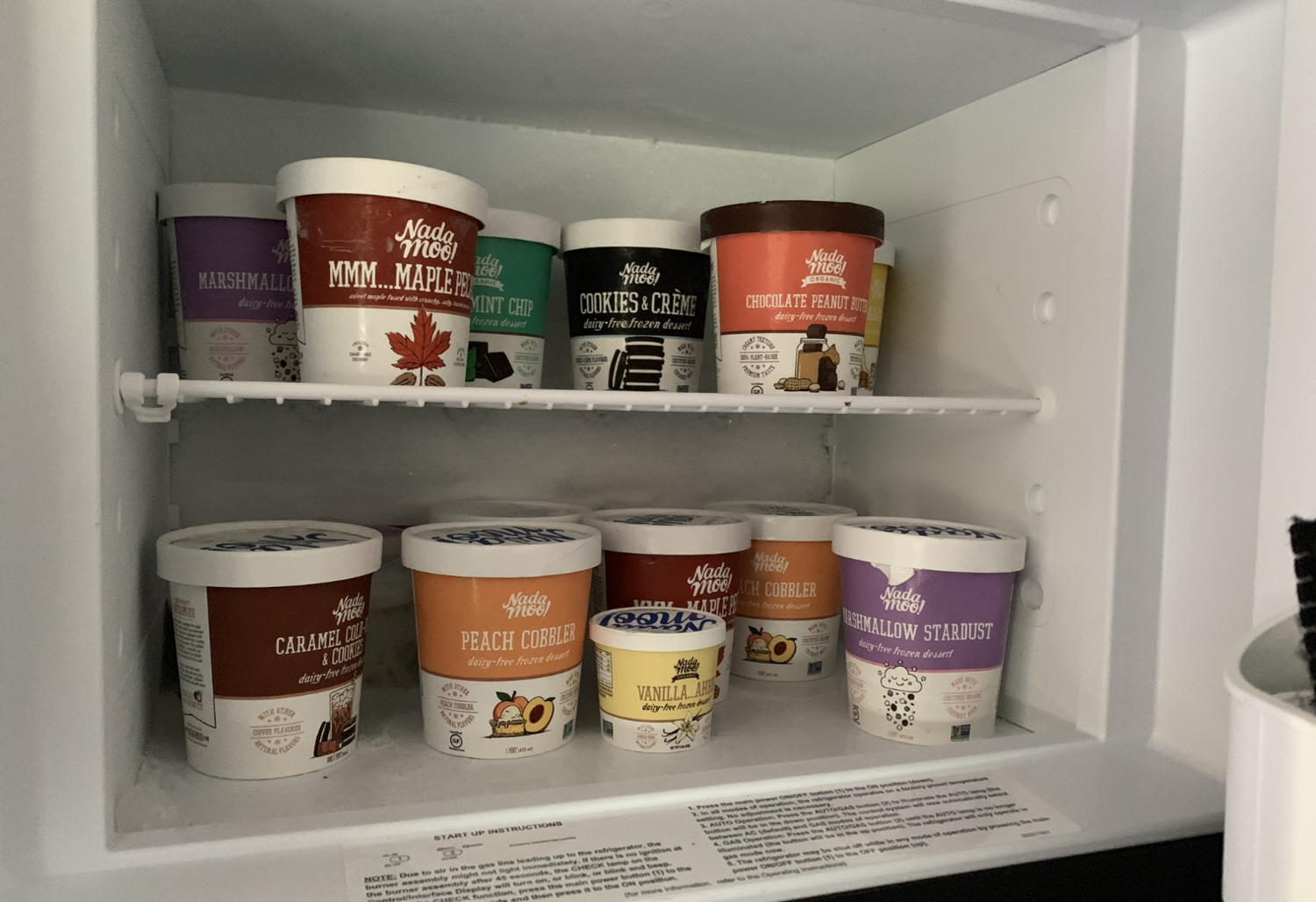 We had to worry about severe storms and tornadoes towards the end of the day today! As the clouds became more ominous, and the rain started to fall, I decided to stop 5 miles short, finishing at 40 miles. I took advantage of my extra non-running time by getting to bed early in a hotel with a tornado shelter.
Despite the last three days being mentally challenging, I have a lot to look forward to right now with friends joining the Transcon in the next coming days and weeks. Jacob Garcia arrived this afternoon and jumped right in with me and Elliott for the last 2 miles!
The big lesson I learned from this funk was about the importance of being present. I really struggled to be present these last few days, and without being present, miles felt like they took hours. Finding my center has me feeling good and present again.